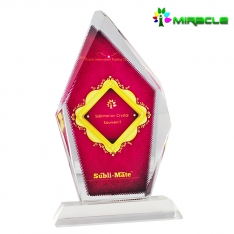 How to heat press glass and crystal materials?
ow to heat press glass and crystal materials? here is the sublimation operate instruction for heating press glass and crystal materials.
As long as the materials are anti-high temperature, they can be used to heat press sublimation. If you are a professional artist, frosted glass, tempered glass are better for the expect of beautiful appearance and easy-to-make. Because transparent glass photo printed, because the transparent pattern is less than frosted glass beautiful, translucent opaque glass in the window display, interior decoration with an unexpected beauty. Anti-heating tempered glass is uneasy to break during heating press, while common one is easy to break. If you must need common glass, thicker common glass should be basted before heating transfer. After heating transfer, it is better to polish glass around , so that your art is even more perfect. There is a glass to do such a wedding without a frame hanging in the room do not have some fun. I hope your service can To consumers more beautiful but also for their own to create greater wealth.o not like the crystal directly printed on the crystal billet, but to be printed on a piece of frosted glass and then paste it.