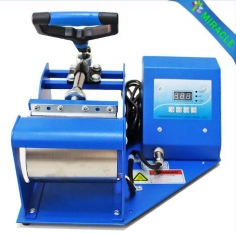 Brief introduction of cup press machine
High temperature tape: thermal transfer high temperature tape is specially used as a thermal transfer technology of a tape, play a fixed role for
cup press machine
, plate press machine, metal heat transfer and so on.
mug heating pad: the size of the mug heating pad determines the size of the cup can be roasted, generally a cup press machine can be more with a few mug heating pad, so you can bake Variety of cups.
Buy cup peass machine to MIRACLE thermal transfer equipment Limited. Our factory has Western Europe advanced technology, manufacturing experience is very rich, wholeheartedly for global customers to provide quality products and services.Products include all thermal transfer equipment, heat presses,
vinyl cutter
and inkjet printers, as well as heat transfer vinyl, transfer paper and more heat transfer blank material.And with specialized technical advisory service centers, personnel training centers and after-sales service center.